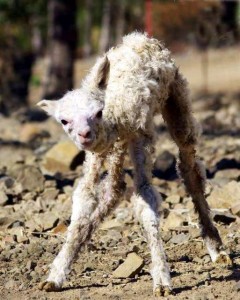 I used this baby alpaca picture for the month of January in my new alpaca baby calendar for 2012. I thought a new baby struggling to his feet would be a good start for a new year.
I'll be the first to admit that I intervene too much when it comes to the baby alpacas. Most of the babies don't need much help. They'll stand and start nursing without me. When the mom lets me help I try to get them nursing a little quicker. I like to see them get plenty of colostrum as soon as possible. In fact I have to remind myself to be patient and that there is a reason they call it nursing.
Celeste's cria was born on a beautiful day so I let him struggle to his feet all by himself. I sat back and took pictures and let him do his thing. He was up and nursing in about ten minutes so I'm happy to say I didn't get very many pictures of him struggling. He was able to stand strong quickly.
So my saying for the year ahead is…"it might get tough at times but we all need to get to our feet, stand united and stand strong… God bless our troops and God bless the USA!"