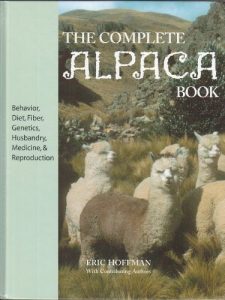 I thought I would never sell my copy of The Complete Alpaca Book because it is absolutely one of my favorite alpaca books. We bought this book when we first started in alpacas and it was extremely helpful. It's one of the best books on alpacas because of the multitude of information it contains. As a fully comprehensive book you will find it a very valuable resource when raising alpacas. Over the years we have continually used this great reference.
I love this book and hate to sell it but we are retiring and it's time for it to go to a new home. The book is in very good condition with no marks.
Hardcover: 604 pages
Publisher: Bonny Doon Press; 1st edition (2003)
ISBN: 0-9721242-0-9
The Complete Alpaca Book sold… thank you!