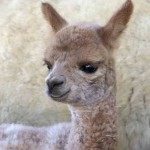 By early September I thought we were done with the 100 degree heat. Unfortunately we got hit with another week of 100's the first week in September. Our female alpacas did great all summer until the 100 degree heat decided to hit one more time before fall. I guess the extra heat at the wrong time was too much for them. Some of our girls aborted and others had their babies way too soon. This month has been rough on our alpacas.
When premature crias are under 30 days early they have a greater chance of surviving. Unfortunately the crias that are born more than 30 days early usually don't live. Their lungs are usually too underdeveloped and their survival rate drops drastically.
For the first half of the month we were very busy with all of the premature crias. We had two beautiful girls and they were both more than two weeks premature. Both crias needed our help to nurse so they took up quite a bit of our time.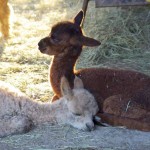 I thought this photo of the two girls together came out adorable. On the left is Magic's first girl and she is stunning. She's out of AJ's Peruvian Lace. The girl on the right is Marcello's first girl and she is also a beauty. She is out of AJ's Peruvian Miracle. We had Peruvian Miracle on our sales list for a short time but we've decided she's just too nice to let go so she is now part of our foundation herd.
We've also had several boys as well. I'll update our blog about the boys very soon.