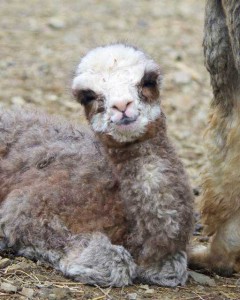 Our girl Ruthie had a rose grey cria! Rose grey is one color you don't see too much of in alpacas especially on our farm.
I've always been drawn to the grey alpacas. I just love their color but when we first started in alpacas most of the greys back then had coarser fleece than what I liked. Their fleece also didn't have enough character to my liking. What can I say… I'm very picky when it comes to alpaca fleece.
Over the years we usually have at least one or two greys here. We breed them to different colored sires and it's fun to see what color their crias will be. Unfortunately Dave keeps selling my grey alpacas so I've never had much of a grey line.
When we acquired Ruth I was so looking forward to her future colorful crias. Ruth is a medium silver grey girl out of Masterpiece Melissa Rose, a medium rose grey dam, a beautiful girl from Masterpiece Alpacas. Ruth's sire is Legend's Challenger of KPR, a medium silver grey sire that's producing outstanding offspring.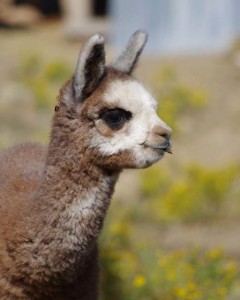 I knew I had to breed Ruth to a grey or fawn (vicuna) sire because that would give us the best chance for a grey cria. Since we didn't have a grey sire our next best choice, not only for color but to improve fleece quality, is to breed her to one of our fawn sires. I bred Ruth last year to BF Giacomo, a beautiful fawn (vicuna) colored male. The vicuna colored alpacas tend to throw the color of the alpaca their bred to. Well it worked because we have a gorgeous rose grey boy from the breeding and his fleece is awesome!
Ruth's boy will be named Walnut Creek Rossi. I'm so looking forward to showing him. His fleece is so outstanding that I can't wait to shear him. I'm going to set his fleece aside for a very special project. This year I bred Ruth to Magic… I know he's neither grey or fawn but Magic is so special that I know whatever color they produce their cria will be spectacular!