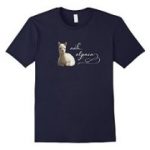 We're excited, we received an invitation by Amazon to create 25 t-shirts! We made 25 shirts and once we sell 25, Amazon will tier us up to where we will be able to create 100!
As you can guess our first creations were alpaca and horse tshirts. However, we also made shirts with Mariia from FleurArt and they really came out beautiful. Mariia is a professional graphic artist so I was excited to get the chance to work with her once again. You can visit our t-shirt page at http://www.walnutcreekalpacas.com/tshirts.htm to see Mariia's beautiful artwork as well as all of our creations.
I'm also having a lot of fun doing something that is very near and dear to my heart… Christian t-shirts. I pray about the verse and picture for each one and ask the Lord to help me. God is always faithful and He gives me inspiration with everything I do, not just the shirts. He will hear your prayers too and all you have to do is ask and believe! 🙂
I'm hoping Amazon will be a great platform to sell shirts where we'll have more exposure and less expensive than what we have listed on another site. Anyway it's fun to do and a great way to make extra money, especially during the holidays. If you have any questions, please feel free to contact me.