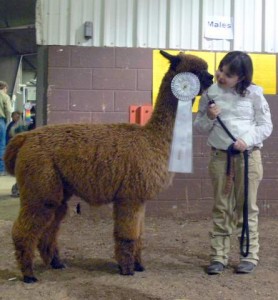 As always we had a great time at the alpaca show in Shawnee, Oklahoma.  It's fun to catch up with old friends and show our alpacas.  Also we like  to see how our alpacas stack up with the other alpaca farms.
We were thrilled when Walnut Creek Antonio won blue in juvenile medium brown and then BF Toscanini won blue in yearling light brown.  Our two boys went in for Color Championship and Toscanini won Reserve Color Champion!
Walnut Creek Jasmine (pictured here) took third in her class.  She went on to perform with our friend's daughter in performance and showmanship.  She won third place in Showmanship so we were very happy for her.
The competition was fierce in the fawn and white classes.  It was tough… Masterpiece Rockefeller won 3rd in light fawn juveniles, Walnut Creek Tanner won 4th in yearling, and Masterpiece Jessica won 6th in juvenile.  Benvenuti's Puccini won 2nd in adult white and last but not least… Masterpiece Ruth won 4th in grey yearling!
Alpaca shows are really a lot of fun.  There are a lot of great people to meet and so many beautiful alpacas to see.  Alpaca people are very friendly and happy to share any information about alpacas so get out and visit an alpaca show and have some fun! For more information on the alpaca show in Shawnee visit their website at Alpaca Blastoff.