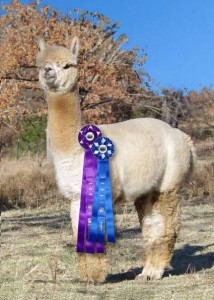 The Alpacas in the Ozarks Show
was Masterpiece Rockefeller's time to shine. Rocky won the Blue Ribbon in the Huacaya Light Fawn Male 2 Years & Older class and Color Champion for the Huacaya Fawn Male Championship! Rocky is out of Carol, a beautiful black female, and sired by El Accoyo Rubio, a gorgeous full Accoyo male. Way to go Rocky!
The Alpacas in the Ozarks is a wonderful show to go to! Dave brought 7 of our alpacas to the show this past weekend. It was held in Fayetteville, Arkansas, at the Pauline Whitaker Animal Science Arena. Once again I stayed home waiting on one of our girls to give birth and once again I'm still waiting. I find it very difficult to leave when I have a female that is close to her due date.
The Alpacas in the Ozarks is a level ll AOBA Regional Alpaca show with approximately 160 huacayas and 40 suris. The show was judged using the 60/40 comparative judging basis, that's where more weight is given to the fleece vs conformation. David Barboza was the judge for halter, performance, and the handcrafter's spin-off.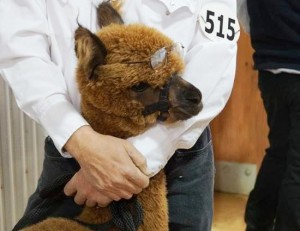 Rocky wasn't the only one to get a blue ribbon. Three more blue ribbons for first place went to Magic's first cria, Farren Sonny, Magic's full sister's son, Walnut Creek Antonio, and BF Scarlett, out of BF Gaia and sired by Bisturi. A red ribbon for 2nd place went to BF Gran Torino in an extremely difficult white class. BF Gran Torino is out of BF Norina and sired by FDA Grand Slam. A white ribbon for 3rd place went to BF Cleopatra. Cleo is out of BF Tasia and sired by BF Riccardo.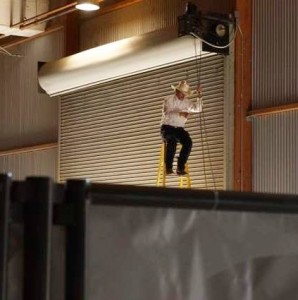 The lights went out… never a dull moment when you're at an alpaca show! When I first saw the picture above I wondered who the crazy old guy was up on the ladder. I didn't even recognize my husband… it was Dave, he was trying to open the big door in order to get some light into the building.
Everyone said the Saturday night banquet was great. Charlie Negen was the entertainment… bringing his "LET ME MAKE YOU A DEAL" program. Dave said he laughed so much that his face started to hurt. Sooo if you've never been to an alpaca show… what are you waiting for?