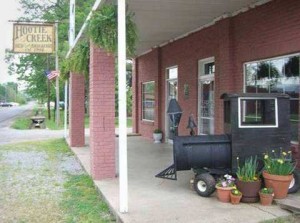 The other day Dave and I went out to lunch at Pam's Diner in downtown Talihina.  On Wednesdays, Pam's special is chicken fried steak… great food at a fantastic price!
After lunch we decided to visit the inn on First Street, Hootie Creek House Bed & Breakfast.  It's just around the block from where we had lunch and about 15 miles north of Walnut Creek Alpacas.  
Much to our surprise this renovated historic inn is gorgeous inside!  We were met by one of the owners Carolyn Webb.  She was an absolute delight as she showed us around to see all of the improvements her and her husband made to the place over the past two years.  The place has perfect decor and they even have plenty of wonderful old pictures of Talihina's past hanging on their walls.  Carolyn was busy baking cookies before we arrived so the aroma of fresh baked cookies filled the air.  In fact the whole place was filled with warm hospitality and had all the comforts of home.  
I would definitely recommend Hootie Creek House as the best place to stay in Talihina, Oklahoma! You can visit Hootie Creek online at www.hootiecreekhouse.com