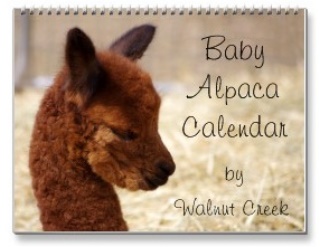 Our new calendar for this year is a baby alpaca calendar. Most of the alpaca pictures are from our fall baby season. I tried to use the baby photos from my new camera rather than my old one. I think the pictures from the new camera are so much more professional looking.
My new camera is the Pentax K-5, a 16.3 megapixel digital SLR. It's a big upgrade from my old Panasonic DMC-FZ30. The Pentax K-5 is an awesome camera but I still have a lot to learn. I've been playing around with the settings quite a bit. When I get the settings right the photos are much improved from my old camera. I don't know why but my pictures seem to come out sharper when I lower the pixels to 10 megapixels. Maybe it's because the alpacas are moving around quite a bit.
I have two lenses for my camera. The one that came with the camera is the 18-55mm kit lens which is a pretty nice overall lens. The other lens is the DA 50-200mm F/4-5.6 AL weather resistant lens. It's a very nice mid range zoom that takes beautiful pictures. I like it better than the kit lens that came with the camera.
I love taking pictures of the alpacas. They are wonderful subjects… warm, fuzzy, and smiling too! Be sure to check out my new alpaca calendars for 2012!