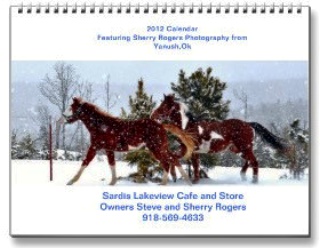 Sherry and Steve Rogers are dear friends of ours. They own and operate the Sardis Lakeview Cafe. They also have a hobby farm not far from our alpaca ranch here in southeastern Oklahoma. Sherry and Steve take care of neglected animals. They have horses, dogs, cats, chickens, ducks and even a parrot.
Sherry's passion is horses so she put together some of her favorite photos and made a calendar. She's dedicated her calendar to the neglected and abandoned horses like the horse she has now, Buckie. Buckie is the lead horse on the front of the calendar.
Buckie was adopted in 2010 by Sherry and Steve. He was starved and abused. Today he is a happy healthy free roaming horse with their other horses on their farm.
Sherry has a great eye for photography. I always enjoy her photos and you will to so be sure to check out Sherry's calendar. The sale of this calendar will help take care of these wonderful animals. Thank you for your support!