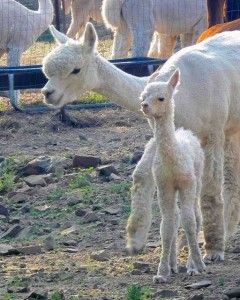 Well Norina finally had her cria the other day. We named him, Gran Torino. It seems to fit him and we thought it would be a cute name for an alpaca.
His mom of course is BF Norina and his sire is FDA Grand Slam. Norina's pedigree reads like the who's who in the alpaca world. Bloodlines include Accoyo's Caligula, Vengador, and Legacy plus Hemingway.
His sire, FDA Grand Slam is from, alpaca judge, Amanda VandenBosch's farm. His pedigree includes a wonderful combination of Peruvian Grand Master genetics along with Accoyo Cahuide.
Torino is not just another white boy… this boy is impressive and destined to be a Champion and major herd sire! We look forward to showing him next year starting with the Oklahoma show January 2012.