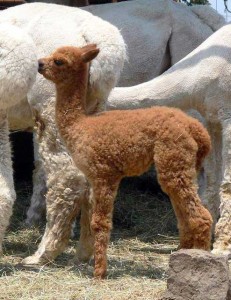 A few years ago we were told if we breed our alpacas on the waxing side of the moon we would get more females. I laughed about it but when I checked our breedings over the past 7 years I found out that 90% of the time our breedings went along with the phase of the moon. The girls were coming from breedings on the waxing side of the moon and the boys were coming from the waning side. Wow more female alpacas… I thought I was on to something!
I was amazed at what I had found so I started to breed more by the moon's phase and initially we did get more girls. Although as I continued to breed by the moon the percentage went down and little by little I was getting more boys.
So far Gabrielle is our only female cria this past spring. She's a stunning girl out of our foundation female Pretty Lady and sired by BF Riccardo. I'm thankful she's a beauty and a blessing… show quality all the way!
Well God showed me who's really in control. I guess there has to be a balance in nature… the way God designed it. This past spring we had five boys and only one girl. Although we still have one more on the way… maybe this one will be a girl!