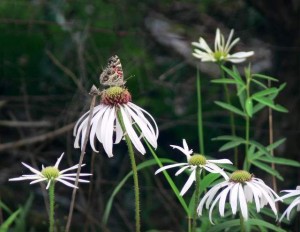 Our Echinacea in Oklahoma grows wild and it's growing right along the road we live on. It's called Echinacea sanguinea. I was surprised when I searched online I found 9 different species of echinacea. Ours is the most southern one. Some species are used for medicinal purposes and some are for show but I'm not sure about this particular type.
This picture was taken a couple of weeks ago when the purple coneflower was not fully developed. I liked this picture because a butterfly landed on top of the cone just as I took the picture.
It amazes me how drought tolerant Echinacea is. I always find it growing at the hottest time and in the driest areas. Although we've been extremely hot and dry lately that even our echinacea has given up and is no where to be found. We desperately need rain. We're so dry that we're having to haul water daily from town and it's getting old quick. Pray for rain!!!