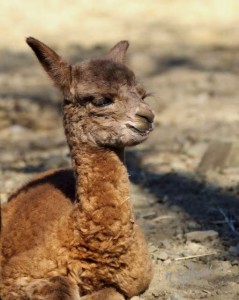 Coalie gave birth to a stunning big beautiful girl. We named this gorgeous gal, Cate.
Cate is full sister to Jasmine, both being out of Coalie and Riccardo. Coalie is Magic's half sister… Black Magic bloodlines and Riccardo brings wonderful bloodlines in from Accoyo Santino.
Cate has a lot of energy and she seems to be the leader of all of the crias in her pen. Alpacas have a pecking order and their crias do too. She is a definite leader and has the presence of a winner.
Cate has everything she needs to be a top show girl so we'll have to keep a close eye on her. If she continues to blossom over the next few months then hopefully when she's weaned we'll start taking her to the alpaca shows in the spring.
I love the way the photo below came out. Cate looks so content and secure as she sleeps by her mom Coalie.