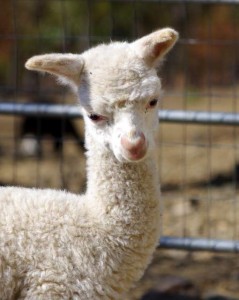 When this cria was first born, Dave said, he reminded him of Stevie Wonder because of the way he holds his head. Of course I was in denial and I kept on insisting that nothing was wrong. Well when he started to take his first steps we realized something was very wrong. Instead of the normal struggle to learn to walk this little guy acted like he was drunk… that's when it finally hit me, it broke my heart, this cria is blind.
I stayed with him and helped him all day long. His mom was great and she stayed right by his side but he needed extra help finding the milk. He seemed so lost and I wasn't so sure he would be able to overcome all of the obstacles that lay before him.
His mother had severe heat stress this past summer to the point where we thought we were going to loose her. We had two months of over 100 degrees and days when it was up to 114 degrees. I'm amazed our alpacas did as well as they did. I guess something didn't form right when his eyes were being developed. His eyes are dark in color but the center of his eyes looks cloudy.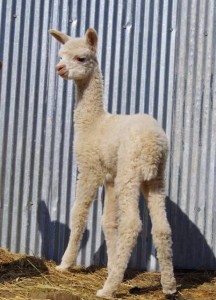 The first week I had to help him nurse about every two hours. I had to put him under mom to make sure he was getting enough milk. Sometimes I would find him in the corner of the pen going around in circles in complete frustration. His mother was so worried about him. She would stay right by him most of the time and she wasn't eating or drinking. I would pick him up and bring him back up to the barn to give her a break. She would follow us to the barn where she would rest, eat and drink. This went on for a little over a week. I was starting to have my doubts about this boy thriving and living a somewhat normal life.
The second week he was still going around in circles but his circles were getting bigger. He's finally starting to learn where everything is. He runs a little and acts more like a normal cria. He runs and stops about a foot from the fence. He can now find the barn, fences, trough, and mom! He still has a little trouble with rocks and trees but what a big improvement from the week before.
Dave calls him Stevie but I call him Mr. Wonder because I think he's wonderful and soooo smart! This week he's improved so much that he hardly acts like he's blind. He's running and playing with the other crias. He's doing so well that he doesn't even need my help anymore. In fact sometimes he gets mad at me when I try to help him. He's very independent and wants to do everything himself. I'm so glad to know that this little cria will do just fine without his sight. He's a happy healthy beautiful boy!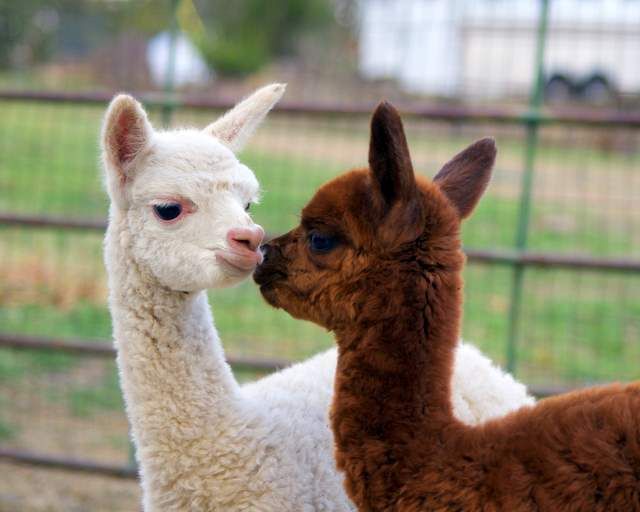 The other day when I was watching him I noticed Calendar Girl's cria, Kya, was leading him to the barn. Kya was at his side with her neck behind his neck and it seemed like she was pushing him forward towards the barn. Now I don't know if this was by accident or if she was actually helping him. I'm going to give her the credit… alpacas never cease to amaze me… they are so smart!