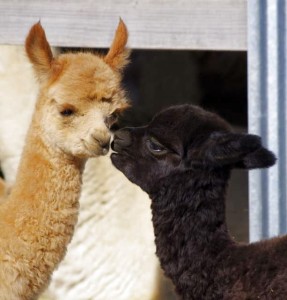 Can you hear me now? We're having trouble with our phone lines. The phone rings but it appears that no one is there or we can't hear you. We called our phone company and they said we are not the only one having phone problems. They said the problem is in Oklahoma City and it has to do with AT&T and switches… whatever all that means.
Also I'm behind in posting cria pictures. I had a special needs cria that took up quite a bit of my time. I'll post about him soon.
The crias in the picture are… on the left our boarder Gia and Dante's girl and on the right is Jaide and Marcello's boy, JB. He's black and he's beautiful and he's Marcello's first cria on our ranch.
Hopefully they'll get the phone lines fixed soon. In the mean time if you're calling about alpacas or just calling to say hello and can't get through then please use our contact form or email us direct and we'll get right back to you. Thank you! 🙂