Calendar Girl received so much attention from her alpaca picture with a famous person that people are calling her the Twilight alpaca. It made sense to me to call her baby daughter Twilight. It seems to fit her and it's a cute name for an alpaca. So officially Kya now has a new name… Twilight!
In fact I like all of the names from the Twilight Series that I may have to name Calendar Girl's future babies New Moon, Eclipse, Breaking Dawn, and Midnight Sun. I think they're wonderful names for alpacas!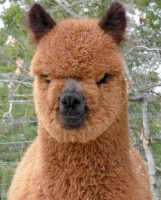 It amazes me how Calendar Girl continues to dazzle people with not only her charm but with her photo too. Since people enjoyed that photo of her so much I decided to turn that photo into a puzzle. Her puzzle is now online on our website at Calendar Girl's Puzzle.