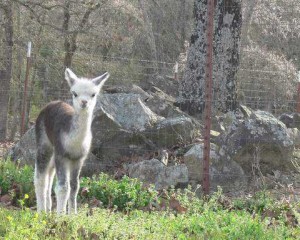 We opened a rock yard at Walnut Creek! The rocks here are so beautiful that we decided to put this rocky ridge to good use.  Our new rock yard is located just south of our alpaca pens, in the Potato Hills by Albion in Oklahoma.  In fact that rocky ridge even goes right through our alpaca pens.  In the picture you can see the moss boulders behind the little alpaca.
We're just starting out so all of our natural stone is surface rock only at this time.  We have different sizes of landscape stone including; moss boulders, moss builders, waterfall and much more.  We have plenty of pictures of our moss stone at our new website so be sure to visit!
If you are interested in purchasing stone and need a price list please feel free to call Dave at 918-563-4245.  All prices are by the ton (2000 lbs).