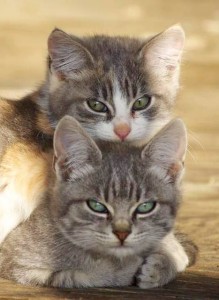 We're offering two kittens free to a good home. They are out of our calico mom, she is one of our barn cats. These two kittens are cuter and sweeter than the rest of our barn kittens. Both kittens would make great pets as well as keep your barn free of pests. Their moms taught them how to hunt so they are very good at catching mice and grasshoppers.
They're so cute that I hate to give them away but we have plenty of barn cats right now. If I wasn't allergic to cats I would bring them in the house and keep them as house cats.
The kitten on top is a female calico and the one on the bottom, in the picture, is grey and white. They are absolutely adorable so they probably won't last long. Call or email me if you're interested.