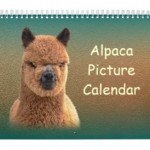 Our Alpaca Calendar 2016 has some of my favorite pictures from my book, "Alpaca Picture Book: Photos & Fun Facts".
The "Alpaca Picture Book" is a collection of pictures from over 13 years of raising and breeding alpacas. Through my photography, the picture book is a fun and easy way to teach everyone about alpacas.
My time with these precious animals has been a wonderful journey that continues today. I hope you enjoy my photos as much as I enjoyed taking them.
High quality, full-color, full-bleed printing.
Choose from 16 unique styles for dates and holidays.
Optional start and end dates.
Wire-o binding in 7 different colors.
Available in three sizes – Standard, Small, and Huge.
New – Fully customizable pictures and text!
Click here >> our Alpaca Calendar for 2016 is now available at Zazzle!