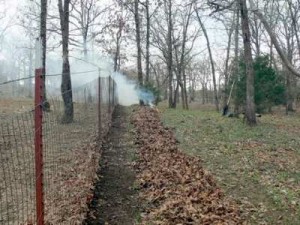 Every year I do a controlled burn to as much of our place as possible. I call the Forestry Services for Oklahoma and let them know what I'm doing and then they issue a conformation number for the burn. In fact most of southeast Oklahoma does controlled burning right before spring. To keep smoke to a minimum we only burn when the leaves are dry and the grass is just starting to come up.
The photo I took is a picture of the bottom of the alpaca pens. I rake the leaves away from the fence and then burn them. By burning the leaves and brush we help control ticks and meningeal worm.
I don't burn all of the 380 acres for fear it might keep going. I usually burn about 150 acres on the west end because it's very safe. The west end is surrounded by road and creek so it is contained with natural fire lines. The controlled burn when done right just burns the leaves on the ground and doesn't harm the trees. I wish I could pick up all the leaves and use them for compost or mulch but on such a big place it would be an impossible task.
All in all we've had a healthier deer population, healthy alpacas, less ticks and less meningeal worm. In fact our county, Pushmataha County, has a wildlife management area and they also do a controlled burn every year. I found out the elk are also susceptible to the meningeal worm. We live way out in the country and burning every year helps keep everything healthier.