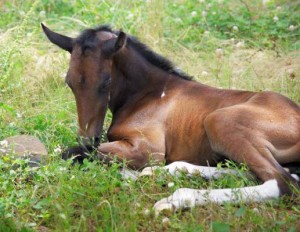 What a surprise, we were blessed with a beautiful baby horse, sorry no baby alpacas. This was quite the surprise for us because we didn't breed any of our horses or alpacas last spring. We are tossing around the idea of retiring.
So you're probably wondering how we have a little filly this year. Last year, our neighbor's horse got loose and he did what stud horses do so our mare Maggie got pregnant. It appears our other mares are not pregnant. Maggie probably kept the stud horse away from our other mares is my guess.
Well, we are enjoying our surprise because we truly love babies. Dave put Maggie and her baby in the front pen so they will be closer to us. She is gorgeous girl and we're so blessed to have her with us.
We did breed some of our alpacas later in the year so we do have a few alpaca babies coming in the fall. We're coming into our 15th year of breeding alpacas so we are seriously considering retiring from ranching!?