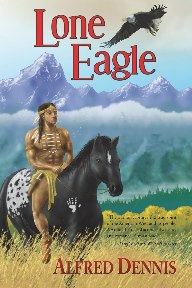 As you know Walnut Creek Alpacas is also busy publishing books. I'm not a big western fan but I do enjoy a great book. Lone Eagle is an excellent book so we decided to share it with everyone. Alfred Dennis can spin an awesome believable tale so download Lone Eagle and sit back and enjoy!
Free Kindle Book Download
3 days only 5/12 – 5/14
Lone Eagle by Alfred Dennis
A great tale of romance, action and courage as the Lanes go west, facing many hardships as they search for the mighty warrior Lone Eagle.
Identical twins, 3-year-old William and Phillip Lane, are torn apart when their wagon train is attacked by the mighty Sioux warriors. William and his sister, Virginia are found by a passing army patrol, but Phillip is missing. Eighteen years later at the Fort Laramie Treaty Council a close family friend sees a warrior identical in looks to William. Follow the Lanes west as a courageous family seeks the missing twin.
Visit Amazon here to download Lone Eagle
About the Author:
Western Author, Alfred Dennis, enjoys telling stories and now has over 13 novels with more on the way. His novels reflect his passion for writing stories of the early days of America with emphasis on the Old West. His book's categories include Westerns, Native American Fiction, Historical Fiction, Action/Adventure, and Western Romance. Alfred's novels are the real McCoy, full action, suitable for any age western novel reader.
If you do not own a kindle, download the free kindle for pc at Amazon.