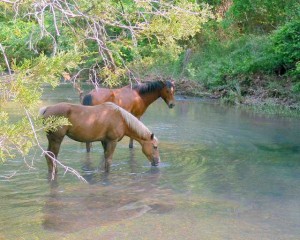 People always ask us why we named our ranch Walnut Creek Alpacas. Well Walnut Creek runs through our place and it seemed like an appropriate name.
Walnut Creek runs all year long and is a major creek that empties into the Kiamichi River. Our alpacas don't get out to the creek but our horses enjoy the fresh clean water from it.
Last weekend when we were out on the ranch I took this picture of some of our horses stopping at the creek for a drink. They love the creek and they'll get in the water and splash around. We swim in the creek too… it's so refreshing on a hot summer day.