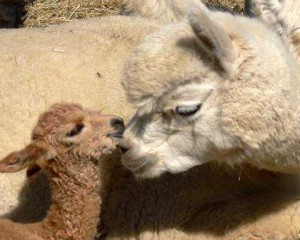 The other day we had two male alpaca crias and they were both born on the same day. Both crias are sired by Masterpiece Aslan.
The one cria jumped up and started nursing right away. The other cria is a premie. He's 3 weeks early. When he was first born he was like a rag doll. It took a little while for him to start nursing. Little by little we were able to get him to stand. He had an elevated temp so we started him on antibiotics. By nightfall he was able to stand and nurse a little.
Now today is his second day and he's up and nursing completely on his own. He seems to be getting stronger and he has a little more energy. We'll keep him on the antibiotics and watch him closely. It looks like he's going to do well.
Oh and the other little cria… he's running circles around the little premie!