Description ~
BF Riccardo is a very stylish, proud, light to medium fawn male that has been breeding since he was two years old. Several of his offspring have won color championships, and he has thrown a range of colors.
His sire is the famous, Color Champion, MSA Accoyo Santino, considered the best of Accoyo Dracula's offspring. Riccardo's dam is Snowmass Andean Amber, who is the only daughter of the renowned Andean Gold, owned by Snowmass Alpacas until his untimely death.
Riccardo's fleece has lots of luscious crimp with gorgeous lock structure. He has a very soft handling fleece and this is confirmed with his impressive histograms, they reveal a very fine and uniform fleece. He is also very dense with excellent coverage. His perfect conformation and awesome presence make him standout as a wonderful herdsire.
We're impressed... our Riccardo crias are arriving and they are absolutely stunning! He's throwing gorgeous fleeces, perfect conformation and bite, and lots of color. So far Riccardo's son, AJ's Peruvian Andretti, won 3 Championships. His son, Walnut Creek Antonio, took 1st place and his daughter, Walnut Creek Jasmine, took 3rd place. We can't wait to get his new crias in the show ring too! :)
Riccardo's crias sweep the Oklahoma Alpaca Show!
Riccardo wins a 2nd place in the Get of Sire with his crias, which included BF Cleopatra, Walnut Creek Cate, and AJ's Peruvian Banderais. Riccardo's crias go on to win Blue Ribbon in Breeders Best Three class, which included Walnut Creek Antonio, Walnut Creek Cate, and AJ's Peruvian Banderais. Antonio wins 1st and Color Champion of the Brown class plus 1st place in Bred and Owned Yearling! Riccardo's crias are hot!!!
Fleece ~
Histogram Analysis revealed a very fine uniform fleece!
2003: AFD 16.7, SD 2.6, CV 15.8, >30 0.4%
2004: AFD 19.5, SD 3.2, CV 16.4, >30 0.7%
Awards ~
1st Place, Breeders Best 3, A-OK Blast Off 2012
2nd Place, Get of Sire, A-OK Blast Off 2012
Fawn Reserve Color Champion at Heart of the Valley 2004
2nd Place at Heart of the Valley 2004
1st Place Composite Class at the PNAA 2003
3rd Place at AWE in Oregon 2003


Progeny ~
AJ's Peruvian Andretti
AJ's Peruvian Cachet
AJ's Peruvian Marquis
AJ's Peruvian Miracle
BF Gaia
Masterpiece Jessica
Walnut Creek Antonio
Walnut Creek Jasmine

BF Riccardo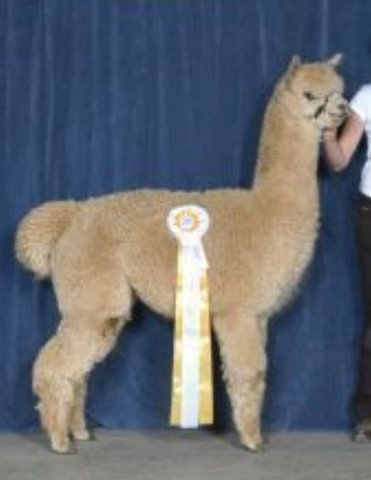 Certificate ~
Statistics ~
| | |
| --- | --- |
| ARI#: | 840517 |
| DOB: | 07/26/2002 |
| Color: | Light Fawn |
| Status: | Proven Male |
| Sire: | Peruvian Accoyo Santino |
| Dam: | Snowmass Andean Amber |
Stud Fee: $3,000.
Sire ~
Peruvian Accoyo Santino
Full Peruvian, white, Peruvian Accoyo Santino is a multiple blue ribbon winning robust white male with unbelievable coverage and density coupled with phenomenal finess, crimp and character. Plus Santino's temperment is fantastic! Santino is a full blooded accoyo male who is said to be the best of Accoyo Dracula's offspring. He has it all from his big strong bones to his correct confirmation and very typey head. Santino is passing all of his superior traits on to his crias.
Dam ~
Snowmass Andean Amber
Full Peruvian, dark fawn, Andean Amber has had several excellent crias, Riccardo being the most outstanding. She is the only daughter of the famous (now deceased) 4Peruvian Andean Gold.
Thank you!
Contact us
Visit Walnut Creek's Alpaca Blog to see what we're up to and for the latest news.
---
New Book!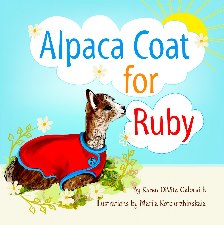 Alpaca Children's Book Visit Ruby's page for more info... read more
---
Featured Stud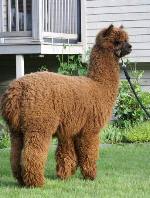 Classic Peruvian Magic an 8x Champion with an elite fine fleece... read more
---
Books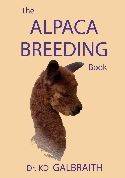 Breeding Book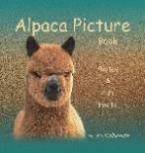 Picture Book
Visit our alpaca books reference page for more information.
---
Spinning
Interested in spinning? We have great information to help you start spinning. learn more...
---
Dave & Karen Galbraith
PO Box 820
Talihina, Oklahoma 74571

Thank you for visiting our farm!