Alpaca Home | Information | Our Herd | Alpaca Pictures | Alpaca Books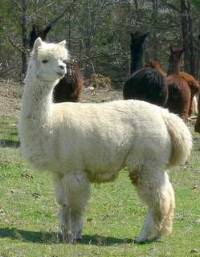 Rock's Ann
ARI:
807713
Color:
White
Birthdate:
6/17/1998
Status:
open
Sire:
Acero Marka's Rockamundo
Dam:
Acero Marka's Amentia
Comments: Ann is a beautiful white full Bolivian girl. Her fleece is very dense with a soft handle. She has good conformation and bite. She produces color when bred to color and she's a wonderful mom. She is a timid girl with a sweet personality.
Ann's sire and dam are both from the Acero Marka ranch in Bolivia. Her sire is one of the finest imports with a micron count of 13.6 and a shearing weight of 14.5 lbs of fiber.