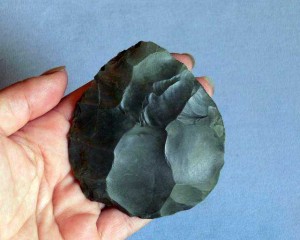 We hardly ever take a day off because we still need to feed the alpacas and horses. We get so busy that we forget to take time off for ourselves. However the other day Dave and I took a break. We took the afternoon off and went for a walk and cooled off in the creek.
While we were walking around I found the most amazingly beautiful biface artifact lying right on top of the ground. It looks like what they call a cache blade, a biface or a preform artifact. It's made of the beautiful rare green chert, a colored flint, from right here in the Potato Hills.
From what I have read… the ancient people would work down a piece of rock and then use it later to make different things. So in other words it's only an unfinished piece of chert but it sure looks pretty!
We're in southeast Oklahoma so it's possible that this piece was made by some of the indigenous Native American tribes i.e. the Caddo, Wichita, or Osage. This part of Oklahoma is now home to the people of Choctaw Nation. I'll have to write more about the Choctaw people in another post. They are wonderful people and I'm honored to live right by them in this part of the country.
Oh and I almost forgot… Happy Father's Day to all of you Dad's out there! 🙂