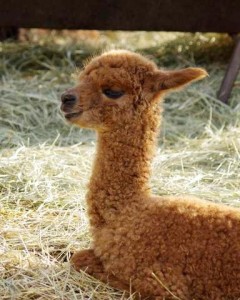 Charmyl finally had her cria and this little alpaca is so adorable. He's big, beautiful, brown and look at all those curls! That's a lot of great colorful crimp and Puccini is the sire of this handsome boy.
Benvenuti's Puccini
brings awesome genetics to our farm. His sire is Victor's Hemiaccoyo Apocalypse and his dam is The Admiral's Peruvian Epiphany the daughter of Caligula's Accoyo The Admiral. Wow what a superior outstanding pedigree. Needless to say we are very excited to see that his babies are finally arriving and they are gorgeous!!!
Charmyl did a fantastic job. His birth was an easy one… he must have read the alpaca birthing book. He did everything on his own with minimal help from me. I love it when they are that easy… then I get to sit back and enjoy it all.
Autumn came running over to him and she was frantically humming to him. She must have thought it was her baby. She checked him out and then went off to find her baby. Once she found her baby she calmed right down.
I only have this one picture of him. It started to rain and I didn't want to get my camera wet. Maybe later today I'll get a few more photos of this handsome boy.
Well we have one more baby we're waiting on. It will be Magic's first so the anticipation and excitement is growing!